bibliotheca flex AMH™ return + sorting solutions
Not only anytime book returns but also automated sorting of books.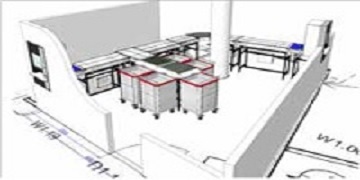 bibliotheca flex AMH™ return + sorting solutions are designed to help the library manage dual tasks using same technology. Not only is it ideal for library patrons but it saves a lot of time of library staff, because the books come pre-sorted to them. They just need to be stacked back.
Needless to say book drop and sorting stations have direct communication with ILS/ LMS.
Customer gets instant notification that the book is received back by the library and the library gets the books sorted.
Flexibity and customization are part of the system design.
The system can even be designed to move the books across multiple floors.
Returning options can be smart return bins or stacking carts.
Add & grow system ensures that you can add any number of bins to the system anytime during a scaleup.
Integration with majority of ILS/LMS.
bibliotheca flexBin™­­
Spring based returning options for book safety & material handling
Great modular design ensures they occupy minimal space and are capable to handle more books
Superior material used for springs and wheels ensures long lasting systems
bibliotheca remoteLocker™ ­
Ideal product to extend the coverage and accessibility of the library
Library patrons can register for their interest of a book and they also get the flexibility to pick the books at the placed of their convenience.
Not only that, they can also return the books as per their convenience through bibliotheca remoteLocker™.