About Meeting Room Manager
Let us show you what our Meeting Room Manager Software can do...
LIBCON - Library Convergence has taken the Meetings room manager from CELECT - Continuum Electroproducts Pvt. Ltd. and given it a spin for exclusive use in Libraries.
LIBCON Meeting or Discussions Room Manager is a browser based solution which helps to manage multiple meeting or conference rooms in a library in real time. It's simple design and smooth information flow ensures minimal clicks for meeting room booking. Versatile features of the system also display real time availability and facilities present in a meeting room.
The system can be hosted in house or in our secure cloud servers. Usage of cloud also ensures that system can accessed from anywhere in the world. System does not present any limitations in terms of the number of locations to manage, it is one system for the entire organization, even in multiple cities
LIBCON also offers Meeting room displays as per the organizations requirement to display the current and upcoming meeting information at the entry of the meeting rooms. This ensures minimal disturbance by people who are looking for a meeting room, while a meeting is underway in the way.
Other integrations like invites to people, access control, visitor's management are possible on a click.
Check out Why the Libraries need a Meeting room manager.
Contact us today to know how we can help with your library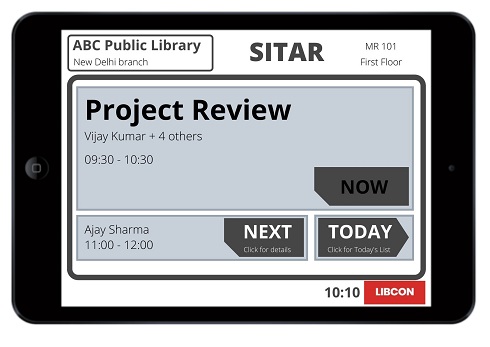 Meeting room display panels
Display room panels are customised to be displayed inside the meeting rooms or even outside the meeting room.
LIBCON supports Meeting room display panels in two versions:
android based
iOS based
How does meeting manager help?
Tracking
Track & Manage your rooms from a centralized system.
Real time booking
Flexibility to check availability and book room on the go, in real time, from anywhere.
Access Control
Integration with access control systems to give conditional access based on predefined logic.
Libraries should use meeting room managers...Why?
Do you have trouble managing your meeting rooms?
Do your patrons keep on calling you to check meeting rooms availability?
Is it difficult for you to track which meeting room has got which facilities?
Managing meeting rooms usage using paper registers?

If your answer is 'Yes' to any of the above questions then LIBCON Meeting room manager is your solution.
Contact us today to know how we can help with your library